days
hours
minutes
seconds
days
hours
minutes
seconds
Our Lowest Prices Of The Year!
Limited Time and Limited Spots Available
4 private, one-hour classes

Trained on 5 Basic Commands (come, sit, place, down, heel)

Dog will perform all 5 commands outside, off-leash, & w/ distractions

Great option for an involved owner
Because our booking calendars can fill up quickly, we have to limit the number of spots we can sell at these prices. If you'd like to enjoy these savings, PLEASE purchase early so you are able to get into our schedule!
Dog is Boarded for 14 Days w/ Certified Trainer




Total of 6 Commands (come, sit, place, heel, down, and down from a distance)

Dog will perform commands outside, off-leash and with multiple distractions!

Daily photo and video updates

THOUSANDS of Before/After Videos

Unlimited refresher training sessions for life

100% Guarantee
8 one-hour classes

Trained on 5 Basic Commands (come, sit, place, down, heel)

4 Advanced Obedience Commands

Great option for an involved owner
**Cannot Be Combined With Other Discounts/Specials**
Are you ready to get the obedient dog of your dreams, but still have questions? Hit Us Up Today!
If you are looking for the best, world-renowned, and most experienced dog trainers in the country, contact Off Leash K9 Training. You do not have to be a star to get the star treatment and the proper dog training your pup needs.

We Specialize in "Everyday Superstars" But Our Reputation Has Reached Celebrities All Over The World!
Read What Just A Few Of Our THOUSANDS Of Happy Customers Have To Say
We sent our 7 month old bernedoodle puppy to be boarded and trained with Off Leash K9 while we were gone on our honeymoon. It was the best decision we made regarding our dog! She was already a good puppy, but now she is just the best!! I practically take her everywhere with me, OFF LEASH! I can't believe it. My husband just said the other day that he enjoys having a dog more now because she's so much more pleasant to take out. She's a happier dog too, much calmer and can relax more in certain situations instead of being anxious and hyper aware all the time. Katheryn was her trainer and I couldn't recommend her more. She would send us daily videos and updates so we never had to worry. Worth every penny!
Laura G. | Verified Google Review

We found ourselves with an immediate need for some serious training after we rescued a cute but high spirited 4 month old puppy we named Benny. After doing the research and reading numerous reviews it became apparent that Off Leash K9 was a quality operation. They were incredibly helpful from the first time I made contact with Taylor to set up the two week board away training. Kathryn did the training and an amazing job she did. Each night we got an update on Benny's progress along with some video clips of what he was working on. The progress was amazing and when we picked him up after two weeks he was "new and improved" Benny 2.0. We continue to be amazed with how they completely trained him in such a short period of time. It made it easy for us to commit to doing our share by continuing to practice on a daily basis and using the tools they provided to us. The experience truly changed our relationship with a sweet puppy with a lot of potential and it was accomplished in such a short periods of time. Amazing! Thank you Kathryn for adding tremendous value to our family. You rock!
Jack S. | Verified Google Review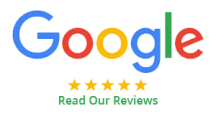 I couldn't be happier with the training provided by Taylor and Raleigh Off Leash K9. We did the board & train program, which was perfect for our high energy/high anxiety dog. We went from having a dog we couldn't walk or take anywhere without difficulty to having the perfect sidekick for all of life's adventures. I still can't get over how much he learned in 2 weeks. He's off-leash and follows commands consistently— getting lots of hikes and social outings now. Thanks to Taylor and Raleigh Off-Leash K9, we're all living our best life!
Kate T. | Verified Google Review

Our lives would not be the same without Hannah, Kathryn and the other girls at So Fetch and Off Leash. Our goldendoodle went through puppy socialization, basic obedience and now participates weekly in adventure days. I knew early on, before I even brought Briggs home, that we would work with this company. Since he started early we had little to no behavioral issues. Briggs tends to be a dogs dog, meaning he could care less about humans and their commands. The girls at Off Leash have whipped him into shape at Adventure Days and he is a happy and fulfilled pup. Forever thankful for this business and recommend every one I meet to consult with them. They even have education classes that can help you pick the right dog for you!
Kendall K. | Verified Google Review

"If you are having issues with your dog you have to use these folks. After one week our German Shepard went from out of control to people asking us if he was a police dog. Best of all my dog could not be happier with a purpose and a job to do."
Darren K. | Verified Google Review

We used Off Leash k9 Raleigh / Durham and can't begin to share what an amazing experience it was. Not only did our Samoyed Sasha come back a very trained girl but Sasha loved her time with Diana and her team. If you are looking for an EXCEPTIONAL dog training company - look no further. Outstanding results from a professional organization! Thanks SO much!
Barbara H. | Verified Google Review

© 2019 Off Leash K9 Training, LLC. All rights reserved.