Meet The Off Leash K9 Team
Diana is a graduate of North Carolina State University with dual degrees in Computer Engineering and Electrical Engineering. She has always loved dogs and started working with rescued German Shepherds in 2005. In 2010 she co-founded Southeast German Shepherd Rescue. Her newest addition is a Samoyed, Jojo, who she shows in conformation, takes hiking, and competes in a variety of activities such as barn hunt, fast cat, and therapy.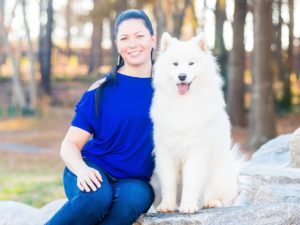 Alisa is a graduate of Arizona State University with a degree in Business Management and a minor in Communications. Most of her professional background revolves around marketing. Alisa has always loved dogs and started working with rescued German Shepherds in 2006. In 2010, she helped co-found Southeast German Shepherd Rescue and remains on the board of the organization. Over the years she has worked with behavioral and medical cases of all types from high energy dogs to reactive dogs, to fearful dogs.
Kathryn is a magna cum laude graduate of North Carolina State University with dual degrees in Animal Science and Zoology and a minor in Spanish. Kathryn spent much of her childhood riding horses, and although she did not grow up with dogs, she always enjoyed working and interacting with them. During her last 2 years of college she fostered and adopted out 24 pit bulls for the Wake County Animal Center. She continues to volunteer at the shelter in her free time. Kathryn has enjoyed incorporating dog psychology and obedience while working for Off Leash K9 Training and So Fetch K9 Adventure since December 2016.
Kaleigh grew up in a rural North Carolina town just south of the Virginia line, where she was involved with animals from an early age. Growing up, her family helped run a 501c3 non-profit called The Eastern Bluebird Rescue group, under the direction of retired USDA damage control agent and wildlife rehabber, Frank Newell, as well as a wildlife education center that traveled to schools, Girl Scout troops, 4H groups and more to teach children about wild and exotic animals and why their protection is important. As a teen, she began helping rehabilitate up to 42 deer fawns per year in the summer, at anytime she could have opossums, rabbits, squirrels, song birds and more. Kaleigh continued her career in the animal field by working as a veterinary technician, with an interest in clinical diagnostics and client education. She soon realized she wanted to focus on animal behavior, and the "why". Kaleigh is passionate about allowing owners to enjoy their dogs, and understand why they think they way they do, and is excited to continue her education. In her spare time loves to garden, hike, fish, and painting with her 2 year old daughter.
Brittany is a graduate of The State University of New York College of Agriculture and Technology at Cobleskill. She graduated with a bachelors in Animal Science and a concentration in Equine studies. After college she moved to North Carolina from Upstate New York to work at a small animal veterinarian practice as a Veterinary Technician. Brittany has always had a love for animals since she was a young girl, volunteering at local animal shelters and taking in every stray she could.

She wanted to learn more about animal behavior and to create a bridge of communication between owner and pet. In her free time Brittany enjoys spending time with her Great Danes Oakley and Jubilee whether it be hiking or taking them down the river on a kayak.
Ashlyn grew up living with dogs in the home as pets and on the farm as working stock dogs. She studied animal psychology in graduate school and found a passion for canine training and behavior there. 
Since then, Ashlyn has applied her knowledge in teaching pet dogs and their owners how to live harmoniously through training and play. She has extensive hands-on experience with basic & advanced obedience, sport & competition training, reactivity & aggression, personal protection work, and more. 
Ashlyn considers herself a 'forever student' and continuously improves her craft and learns from fellow dog trainers and industry experts. 
She currently trains and competes with her dogs in PSA, an obedience and protection dog sport.
Casey is a Graduate of South Seattle College. While pursuing her career as a financial advisor, she worked her GSD in IGP, earning multiple titles as well as learning to navigate behavioral issues and discovering the truth of how training can make a difference in the bond between humans and canines. Deciding her heart was in dog training, she switched careers and now has multiple working dogs, two of which compete in PSA. Advanced obedience and scent work are her favorite, and she enjoys working with dogs needing rehabilitation.
She is highly client-focused and passionate about building a foundation of trust and communication between owners and their pets.
Delaney was introduced to animals when her father owned a pet store (specializing in exotics and aquatics) in her home state of Massachusetts. She started horseback riding at the age of 5 and was an avid 4H member for many years; competing in the Eastern National 4-H Horse Roundup 3 times.
Delaney graduated from Mount Wachusett Community College with a degree in Veterinary Technology and has worked as a veterinary technician for 7 years. She discovered a passion for animal behavior and began her dog training apprenticeship in New England before she moved to North Carolina.
She has found her passion in building confidence in the dogs she works with and ensuring that owners understand the importance of routine and structure (and of course, how to keep things fun!)
Delaney lives with her "zoo" of animals and spends most of her free time improving her own dogs' obedience. She and her dogs can often be seen at the beach, her favorite local breweries and at many different dog sport events. She has also recently started expanding her training knowledge in PSA, a protection and obedience sport.
do you have questions for us?
Or Call us for a free consultation today!
About Off Leash K9 Training
Dog Trainers that Are Recognized Around The World!
Nick White is the Owner and Founder of Off Leash K9 Training.  Nick is a former US Marine and former US Secret Service. He currently has over 130+ dog training locations throughout the United States.
Nick is globally recognized as being one of the top dog trainers in the world.  He has 2 official world records in off leash obedience, named on Wikipedia as one of the top 20 dog trainers in the world, recently named top 10 trainer in the world by bestdogtrainers.org, has been featured in many magazines and shows, and he is regularly requested by the top celebrities and athletes! He has been called upon by people such as actor Ryan Reynolds, WWE's John Cena, MLB All Star Max Scherzer, UFC World Champion Jon "Bones" Jones, and many more!
You can visit our YouTube Channel and watch over 1500+ before/after videos of Nick and his team's work!  Off Leash K9 Training has more documented videos than any dog training business in the entire world!